It's starting to feel a lot like Autumn!
October 1, 2019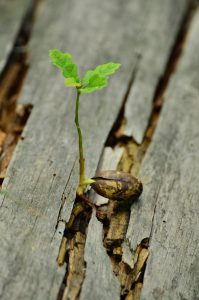 As well as the leaves on the trees changing colour you might also notice the fruits, nuts or seeds that the trees are dropping. Well, here's a thing, each and every one of those has the potential to become a new tree! The reLEAF project, which aims to double the tree cover in the Haddenham Parish, is going to need lots of trees… So here's an easy way that you can help:
Go out for an enjoyable stroll in the village or in a nearby area of woodland. Before you set off the Woodland trust have a free tree identification app for Android and iPhone which you can download if you have a smartphone to help you to identify the UK's native and non-native trees. Or you can go old-school & buy or borrow a book to take with you!
On your walk keep your eyes peeled for acorns, conkers, beech nuts, walnuts etc. and stuff a few in your pocket.
When you get home plant each seed in some soil or compost in a container with some holes in the bottom. It doesn't have to be a plant pot, you could repurpose a juice carton or plastic bottle. There are some nice instructions from the Woodland Trust here https://www.woodlandtrust.org.uk/plant-trees/advice/grow-from-seed/
If you know what tree the seed is from, put a label in the pot (you can cut up any white plastic container to make labels). Park the pot outside for the winter, somewhere it will catch the rain but be a little bit protected.
In the spring see what is coming up in your container.
Keep the container watered, don't let it dry out.
When you see any sign of roots through the holes it's time to move your tree into a bigger container – keep the surface of the soil at the same level.
When your baby tree reaches 40cm you can either plant it in your garden or give it to us to find a new home. In fact, you can give it to us if it becomes a burden before it reaches 40cm!
We would love to know what seeds you find and how your baby trees are doing. Send us some pics & let us know how you get on. You can contact us by emailing releaf@nullzeroch.org